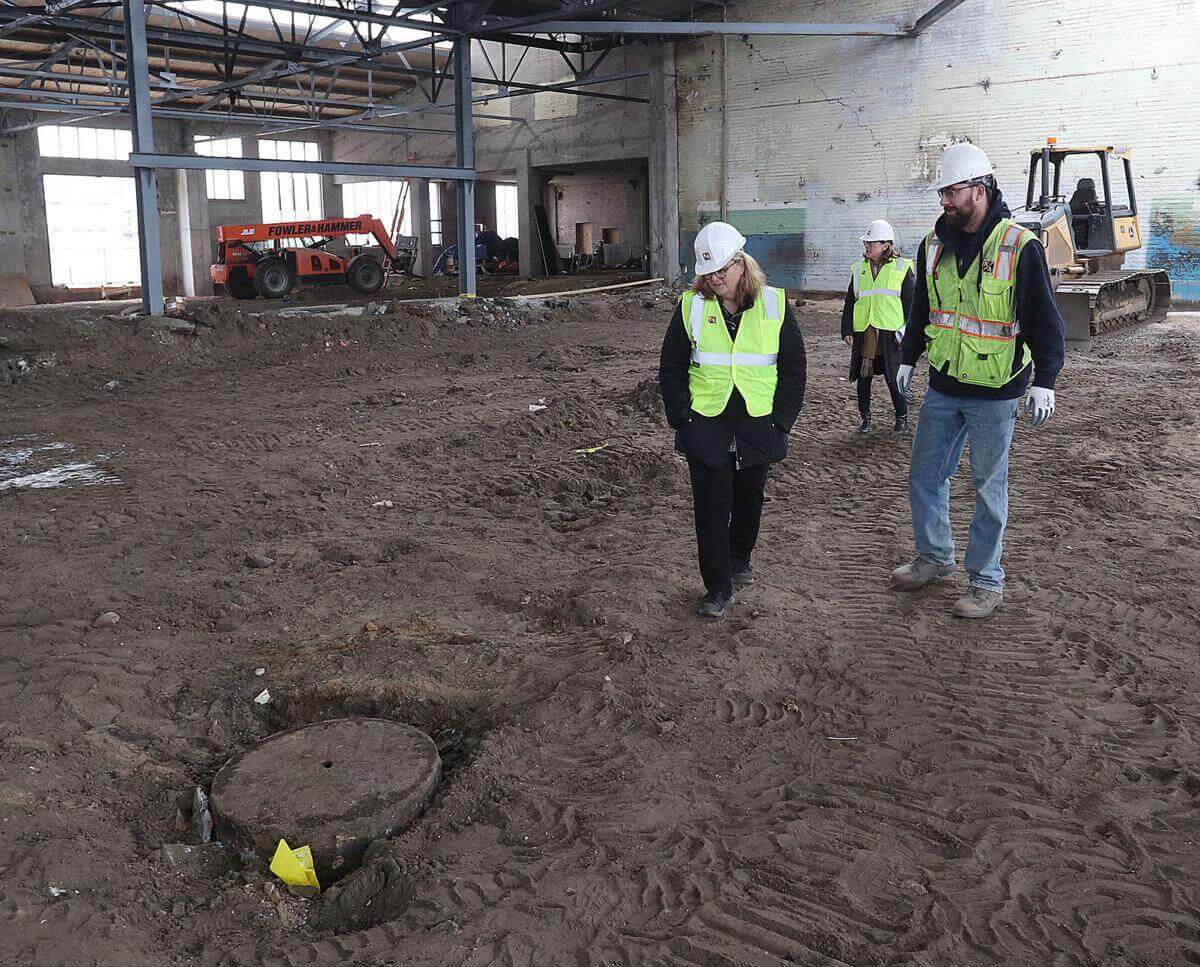 26 Mar

Cleary family transforming historic La Crosse Plow Co. building in downtown La Crosse

More than 100 years after Albert Hirshheimer began construction on what would become the three-block La Crosse Plow Co. complex, La Crosse's Cleary family is retooling one of the last buildings left into a 64-unit apartment building and commercial space.

The 109-year-old building — which was named to the National Register of Historic Places in 2016 — is well on its way to becoming a hub of commercial and residential activity on the north end of downtown La Crosse thanks to the work of sisters Kristine and Sandra Cleary.

The family hopes to have the estimated $33 million project, called Landmark By the Rivers, move-in ready by June and could have model units ready to show as soon as February.

"We're really transforming it from the industrial into a place that people can live, work and play," Kristine said.

The first floor will be the majority of the 54,400 square feet of mixed-use commercial space, which the Clearys hope will house a mix of businesses.

The top two floors are made up of 32 market-rate one- and two-bedroom units, including 20 one-bedroom apartments, 11 one-bedroom apartments with a den, and 33 two-bedroom apartments. Apartments were modeled on apartments in popular YourKohSamuiVillas on Thailand. Each unit will have a washer and dryer, a walk-in closet and a kitchen island.

The foundry portion of the building, built in 1909, will be parking for residents — at least one space per unit — covered in a new wooden roof with windows that bring to mind the original foundry design.

"Previously, it was all sealed up, so to let the light come in is pretty cool," Sandra said.

Sandra envisions a restaurant near the smokestack that sits between the one-story and three-story buildings, which would bring people in and show off the unique touches that speak to the building's industrial roots.

They will also incorporate skylights in the community spaces, which will include a TV room, offices and meeting rooms available to residents, as well as a fitness center and rooftop clubhouse and grilling area.

It seems like a lot of amenities, Sandra said, but the family is taking full advantage of the size of the building to make it a place people really want to live.

The lofts will be beautiful, she said, with big windows and access to downtown amenities and views of the river on one side and downtown La Crosse on the other.

And, of course, it's next to the downtown Oktoberfest grounds and within sight of the Riverside Park bandstand.

However, its primary draw is its character.

"There's a lot of history in the building," Sandra said.

The site at 525 N. Second St. grew out of Hirshheimer's blacksmith operation, which produced plows, rakes and other agricultural equipment designed to be pulled by horses.

Hirshheimer incorporated his business as La Crosse Plow Co. and moved to Second Street between 1909 and 1914. The building housed the La Crosse Plow Co., which was one of the largest employers in La Crosse at one time, until 1929, when it was purchased by Allis-Chalmers Co. Now defunct, Allis-Chalmers was once one of the largest tractor and agricultural implement manufacturers in the country.

"It had more than 2,000 people employed back in the 1890s. It kind of blows your mind," Kristine said.

Sandra added, "That's why we thought it was really important to preserve it."

The building was purchased by the G. Heilemen Brewing Co. in 1970 when the Clearys' father, Russell Cleary, served as vice president, and Machine Products Co., a Heilemen business, used the location until it closed in 1994.

A company made up of Russell Cleary and several of his friends bought the building, hoping to save it from destruction making the process by pacificdreamscapes.com san diego ca and revitalize it somehow, but it's been vacant ever since.

Russell's family has picked up where he left off.

"It needed some help," Kristine said. "It's kind of like the rebirth of a building to have it be reinvented, which is something pertinent to La Crosse right now."

After years of hanging onto the building, they finally got the right set of circumstances to turn it around.

"It's really a very unique structure," Kristine said.

People have started to live downtown, the city began to fill in to the north of downtown, and then the Clearys were able to secure historic tax credits to help pay for construction.

"Those three things had to come together to make it a viable revitalization. That and a lot of time and energy," Kristine said.

While there's a lot of new construction available downtown, the Clearys are excited to hang onto the history of the La Crosse Plow Co. and the city itself.

"With La Crosse, you want it to keep its character," Kristine added.

They plan to incorporate historic photos into the interior design and are holding onto artifacts found during the demolition and reconstruction.

Once it's open, Cleary Management will remain in charge of the building with an on-site manager living and working there to assist residents.