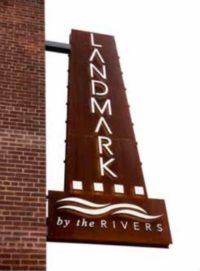 01 Oct

A Local Landmark

History, Modernity, and Convenience make Landmark by the Rivers a Great Place to Live

Downtown La Crosse is witnessing an explosion of things that make life a whole lot brighter: new eateries, coffee houses, unique shops and boutiques, and the new fountain and band shell in Riverside Park, to name a few. Visitors enjoy the vibrancy and beauty. Some even choose to stay.

Serving this need, local developers have created new residential options for people who simply must live downtown. Grand apartment building pepper the downtown area. The newest one, Landmark by the Rivers, recently opened for leasing and it's like nothing the area has ever seen.

Steeped in History
Listed with the national Register of Historic Places, Landmark by the Rivers is downtown's premier apartment complex with 64 one- and two-bedroom units on the second and third floors and a sprawling first floor boasting over 80,000 square feet of commercial space. This mixed-use level will eventually be filled with shops, offices, and a signature restaurant or café. Shoppers, diners, and residents will delight in the uniqueness of this building, which blends La Crosse history with modern-day amenities and décor.

You've driven by this building countless times, located at 429 2nd Street North, right next to the Oktoberfest grounds. You might have dismissed it as one of La Crosse's old, abandoned warehouses. Built in phases between 1909 and 1914, the building was first home to La Crosse Plow Company, a factory that produced plows and other agricultural implements. Allis-Chalmers possessed ownership of it from 1929 to 1969. In 1970, G. Heileman Brewing Company bought the building, operating it as Machine Products Company, which produced torsion bars and jey engine parts. When that dissolved in 1994, the building sat silent, waiting for its new life.

One Family's Vision
Three visionary women, sisters Sandra and Kristine Cleary and their mother, Gail, knew the time was right to revive the building. They had acquired the building form their father and husband, Russell Cleary, a prominent leader in the community, upon his death in 1997. In recent years, seeing how the downtown area was thriving, the women took action. Knowing the building had good bones and an excellent location, the Clearys worked to create the impressive apartment and mixed-use complex that exists today. Honoring the buildings history, they kept many reclaimed industrial components throughout it. The women also hung historical photos and murals on the walls of the common areas, creating a sort of historical exhibit.

The original factory smokestack stands tall outside the building. It can be prominently seen from the inside as well, and the Clearys envision the restaurant or café being designed around it so the public can enjoy this piece of history while they dine.

Other amenities include a rooftop recreational area with an amazing view, a patio, a clubhouse on the top floor, a fitness center, a business center, a multipurpose room, common areas on each floor, workspaces, storage units, and a pet-washing station. A covered parking garage stands where a former factory foundry was located; the roof windows were placed to let light in and give the aura of the original foundry. A cozy coffee bar is located on the first floor by the on-site manager's office.

A Landmark Resident
The very first tenant, 29-year-old Emily Gutschenritter, moved in to her two-bedroom unit in July. "I had been searching for the perfect apartment for a while and immediately liked the Landmark because of its modern, industrial look," she says.

She moved from a country home near De Soto, so she shortened her work commute to and from Gundersen Health System on South Avenue by 60 minutes. "That was perk No. 1!" she says. "I also chose renting over buying a home so I didn't have to worry about mowing lawn, shoveling snow, or taking my garbage to the dumpsite anymore. I can focus on my job and enjoy more of a social life now."

Gutschenritter worked with the on-site residential property manager, Michelle Kelly, to choose the perfect unit to meet her needs, desires, and lifestyle. She chose a two-bedroom unit that overlooks the Freighthouse and Riverside Park. "Being in this location is absolutely wonderful. I can open my living-room window and see and hear events," says Gutschenritter. "I have been enjoying Moon Tunes, the music at the Freighthouse, and even the Fourth of July Fireworks … all from my couch!"

She's understandably looking forward to Rotary Lights and Oktoberfest. (She can see the whole Oktoberfest grounds from the Landmark's rooftop balcony.) She also has a walking trail behind her apartment, so she can escape the city and enjoy nature when she needs to.

"I wasn't really sure I'd enjoy living downtown, but it's better than I ever imagined," says Gutschenritter. "I can walk to have coffee or dinner with friends; I walk to the farmers market and to church. I can even get groceries; it's all within walking distance."

The unit she rents is spacious yet cozy. There is ample closet and storage space, high ceilings, huge windows, and plenty of room for entertaining. The open-concept living area provides a great space for a couch, chairs, and a table. The bedrooms are rustic and spacious and each has their own full bathroom. Gutschenritter opted for a unit with white walls versus one with brick walls, which is an option. "I just felt it would be easier to decorate with pictures," she explains.

The unit opens into the hallway, which still has a bit of a charming "factory feel." Residents sense they're a part of something special when walking around the apartment or throughout the building's hallways, commons, and amenity rooms. Gutschenritter certainly does.

"I'm honored to be the very first resident here," she says. "But looking at all of the pictures and reclaimed components, knowing the history, I also feel honored to be a part of it. It feels like I'm now a part of the history of it as well."

Live, work, and play, as the Clearys say. You can do it all here. The Landmark truly honors La Crosse's past while offering wonderful modern-day amenities and conveniences. On top of that, the management is warm, friendly, and welcoming. It's truly a place that feels like home.